We have a pretty good weekend. We had our nephews from Friday night until Saturday afternoon. Owen and Jadon are double trouble together! One does something and the other follows. It never fails. Luckily the rain held off on Saturday and they were able to play and run as much as they wanted to outside. Phew!
I just wanted to share a few things that we have found in our yard lately.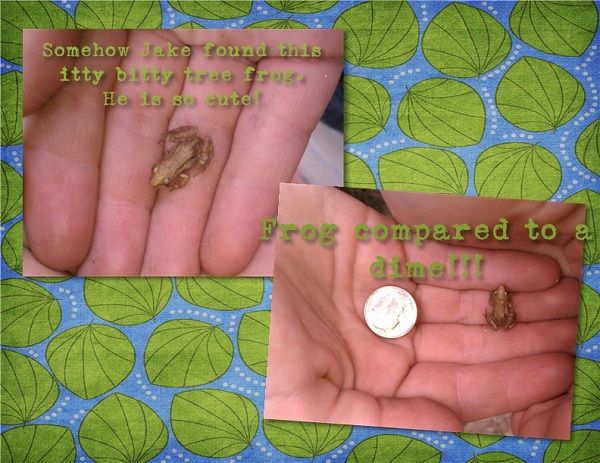 Not the first time we have found something like the following thing in our yard. Our dogs love digging up bones in the woods and dragging them home. So gross!
Matt actually got his Father's Day gift about two weeks ago. It is also a late b-day gift from the kids and I. I saw it on sale and I ordered it. I knew once it got here the box would be too large to hide so we told him about it. It also ended up being way too heavy for me to move! He put it together the night he got it and we tested it out a the following weekend.
Matt used to grill all the time but his old grill was starting to see better days. He was tired of messing with it so he pretty much stopped grilling altogether. He has been drooling over these Weber Performer Series grills for awhile so I thought it was about time he got one! I don't like to heat up the oven in the summer so I really missed him grilling! This grill makes all the pain of grilling with charcoal and makes it easier. It has a propane charcoal starter that gets the charcoal ready for you right in the grill. Just sit the charcoal in the special pan and turn it on and walk away! Nice! This grill also comes set in this great work area which was another frustration of Matt's. He loves it! We enjoyed steaks he grilled on Sunday!
Jadon and Jacob delivered Daddy's charcoal for his grill to the back porch using the mower.
On Sunday morning we all worked in the basement doing some touch up painting and cleaning. Jadon played with his tractors while we worked. We are getting ready to order carpet so we needed to get these things wrapped up. We are almost done with this project! I can't wait!
We finished up with that project mid afternoon. Shelby and Jake went fishing for the afternoon over at our neighbors pond. They did pretty well! Shelby caught the huge bass even though Jake is holding it. She refused to hold it so I could get a picture. Jake says she flipped out when she caught it and almost lost it twice before they got it in the bucket. LOL!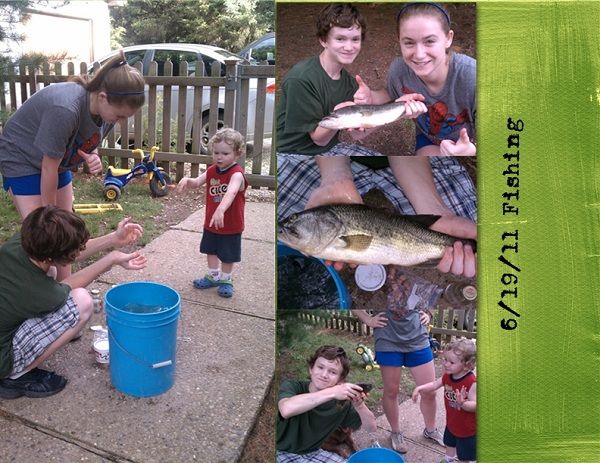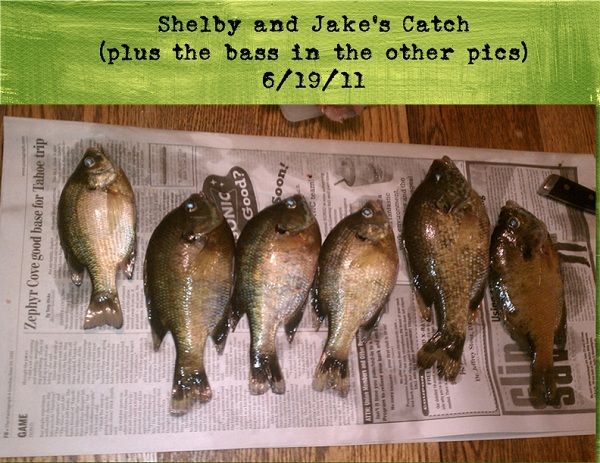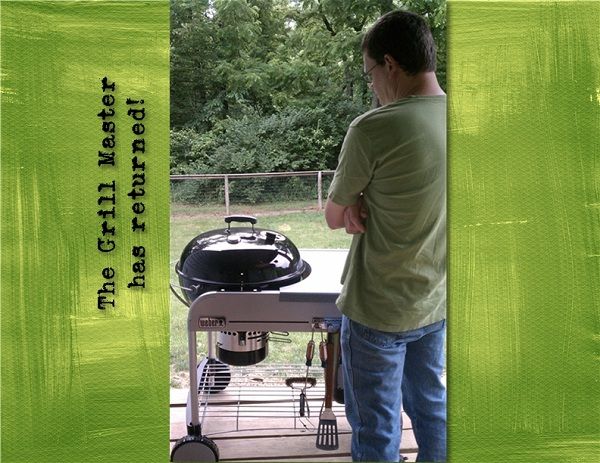 For dinner last night the grill master made steaks for dinner. I made crock pot scalloped potatoes and a salad. At dinner Matt announced that he wanted to go get ice cream for dessert. It was Father's Day so who are the rest of us to argue?