Happy St. Patricks Day! We have had a fantastic day. Maybe it was luck but whatever it was I am lovin' it! It is really the awesome weather we had today that made it great! The boys LOVE to be outdoors. They thrive out in nature. They can run, jump, be as loud as they want, and act like maniacs. Everything they want to do inside but there are rules about that. Boo! We spent a good portion of our morning playing outside today.

Ride on toys were first on the agenda.
That face says it all. This boy is happy!
Moved on to the playhouse where we played a fun game of peekaboo. Jadon ran from one window to the other and yelled peekaboo and I would run around the corner and surprise him.
And.....down the slide we go. Again and again and again. Jadon can't do the ladder so I have to lift him up everytime but that is what Mommy's are for right?
I don't know why he was closing his face as he got to the bottom.
And another slide picture later in the day. We went right back outside after naptime. I was not sure I was going to get Jadon inside when it was time for dinner.
Jadon was sure making me nervous while we were outside. Of coure there was the whole climbing and going down the slide, but he also decided to get on a ride on toy and ride it down a hill in our yard. I turned just in time to see him flying pretty fast down the hill. No one else was doing this. It was totally his own idea. Ugh! Will someone please tell this kid he just had surgery! Lord!
Grandma Cindy brought us corned beef and cabbage for dinner and it was YUMMY!!! We finished off our evening with a special treat. I found
this recipe
for homemade shamrock shakes on the blog
Brown Eyed Baker
. They were so good! Jadon kept saying "MMmmmmmm".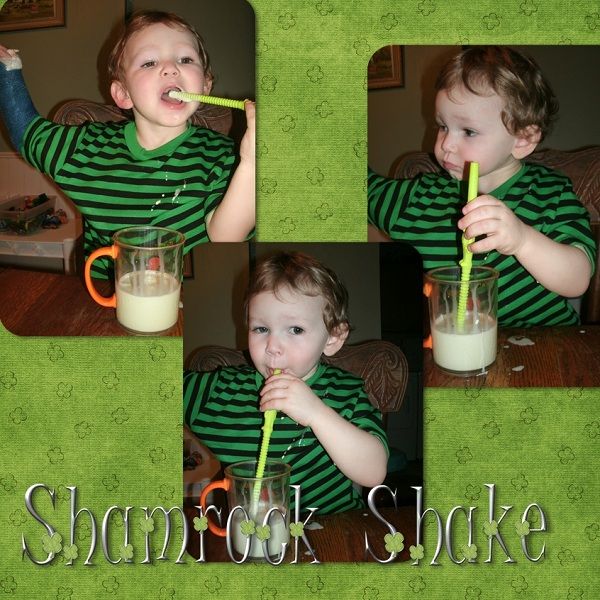 Happy St. Patrick's Day!