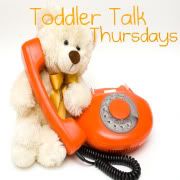 Last week I missed Toddler Talk Thursday last week because we were traveling but I wanted to join back in this week. This week
Family and Life In Las Vegas
,
Life Of A Sippy Cup Mom
, and
Crazy About My Baybah
are asking everyone to show off their four favorite pics of their toddlers. Jeez....this was hard! I take photos almost everyday. So I decided to pic four of my favorite pics from our summer.
I love this! He looks so silly with his brother's hat on backwards!
Look at that "I am so innocent" face. NOT!! One of my favorite shirts also!
I love this because he looks so confident. He is unstoppable!
Mommy's silly monkey!
I think all these picks are a good representation of what a sweet, silly, goofy child Jadon is. He is so much fun! I am so blessed to be his mom! Where is the time going! He is growing up so fast!