Wow! Seems like Friday took forever to get here! This has been a loonnnggg week! We have had lots, and lots, and lots of rain here this week! It really needs to dry out soon so we can mow for the first time! If we don't do it soon we are going to loose a small child in our backyard!
My menu for next week is a pretty similar to last weeks. It ended up being a weird eating week. We ate out more than planned and my MIL brought dinner one night (awesome!). Some weeks are just like that! Like I said, this has been a weird week at this house. Usually so good about sticking to the meal plan! So instead of sharing the same recipes AGAIN I am going to participate in 5Q Friday over a
Living at the Whitehead's Zoo
.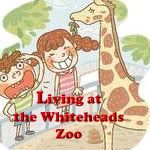 1. What is your favorite Easter tradition?
I think Easter egg hunts are my favorite! They are so fun! I like to do one for the daycare kids in the yard. Sadly it has been rainy all week so that never happened. Hopefully next year!
Of course there is still hope...the bunny has been known to hide a few here are there when he comes to fill the baskets!
2. Are you a "shower" or a "long, hot bath" kind of person?
Most days I just jump in the shower. I just don't want to take the time to take a bath. So many things.....so little time! There are always those days/weeks that call for a good soak in a bath with a good book, bottle of wine, and silence.
3. C
an you

parallel

park and if so when is the last time you did it?
Ummm.....I can't parallel park. I probably could it there was no other choice but don't think I have even tried it in years. Not a city person so have no need to!
4.
What is your

favorite

Easter candy?
Oh this one is easy! Hands down my favorite Easter candy is the Cadbury Eggs! Love the caramel ones!
5.
Easter: do you go all out with the Easter Bunny or focus on the religious part of the holiday?
We talk about the true reason we celebrate Easter but also have fun with the Easter Bunny part of the holiday too! However, I don't really care for that "Mall Bunny". The huge Easter bunny costume with the weird eyes. It just freaks me out. We skip on the Easter Bunny + child screaming in terror photo that costs and arm and a leg.
Before I go I have to show you why I need to make a mental note not to give Jadon a blue sucker while we are shopping.....Had to walk around the store the rest of the time with Mr. Blue Mouth. This picture does not really do it justice. He was not cooperating with the camera (I get a lot of that lately) but i think you can see about half of the blue ring of goo. Got a lot of chuckles.